James McQueen McIntosh
James McQueen McIntosh was born in what latter became Tampa, Florida sometime in 1828. He was born of a military family. His great uncle was Lachlan McIntosh, a Revolutionary War general. His father was James S. McIntosh, a U.S. Army colonel who was killed at the Battle of Molina del Rey during the Mexican War. James would graduate from West Point in 1849, ranked last in his class. Graduating so low, meant he was destined for the infantry, but in 1855, he managed to transfer to the cavalry.
He resigned from the U.S. Army in 1861, although his younger brother remained in the Union Army. James was ordered to report to Ben McCulloch in Little Rock, Arkansas. He also served on Arkansas Governor Rector's staff. At the Battle of Wilson's Creek, McIntosh commanded the 2nd Arkansas Mounted Infantry. He led a charge that drove the enemy back and was praised by future Confederate Brigadier General Louis Hebert. Others praised his actions at Wilson's Creek in their reports.
John Baillie McIntosh (James's younger brother)
All the praise that James received at Wilson's Creek resulted in his promotion to colonel. He led his command in what became known as the Battle of Chustenahlah against Indians who were hostile to the Confederacy. He soon was promoted to brigadier general to rank from December 13, 1861 and took command of a cavalry brigade.
Ben McCulloch
Advancing against the Federals in northwest Arkansas with Van Dorn's army, McIntosh had developed great admiration of Ben McCulloch, his former commander. At the Battle of Elkhorn Tavern or Pea Ridge, McCulloch had ridden ahead of his men to find the position of the enemy. The 36th Illinois saw him approaching through a tree line and opened fire. A bullet struck McCulloch in the chest. He was killed instantly. When McIntosh learned of this, he decided to lead a charge to recover McCulloch's body. As the line was preparing to move forward, McIntosh received a shot in the chest from a Federal sharpshooter and was also killed instantly.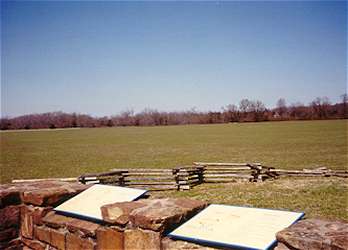 Both General's McCulloch and McIntosh were killed in the tree line across this field
Both bodies were taken by wagon back to Fort Smith, Arkansas where they were buried in the National Cemetery. McCulloch would later be removed to the Texas State Cemetery in Austin, Texas. James McIntosh rests today in the Fort Smith National Cemetery in Fort Smith, Arkansas. He was either 33 or 34 years old.
The Grave of James McIntosh
Major General Earl Van Dorn said of McIntosh, "He was alert, daring, and devoted to his duty. His kindness of disposition, with his reckless bravery, had attached the troops strongly to him."